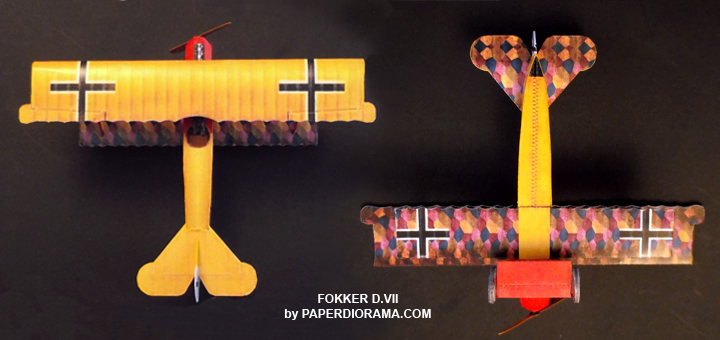 The legendary Fokker D.VII is widely considered the best German fighter aircraft to emerge from the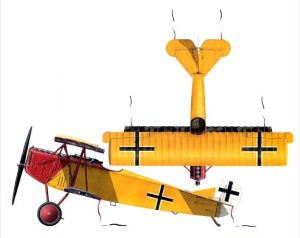 Great War, it was certainly the most numerous and as such was the only aircraft specifically requested to be surrendered in the Allies armistice terms. In early 1918 the young Jasta pilots were mainly equipped with Albatros D.Va, Pfalz D.IIIa and the Fokker Dr.1 Triplane which were no match for the SE.5a, SPAD 13 and Sopwith Camels that they faced each day. Fokker's prototype D.VII impressed the front line pilots present at the First Fighter Trials in January-February 1918 so much that word soon started to leak out about a new Fokker that would once again return air superiority to the Germans. So great was the need for this promising new fighter that, in addition to production at Fokker, Albatros were ordered to manufacture it under license at their Johannisthal and Schneidemühl factories.
The D.VII featured a welded steel tube fuselage and tailplane along with thick 'high lift' wings of conventional wood and wire construction. A few early production machines were powered by the 180hp Daimler-Mercedes D.IIIa but most production aircraft were fitted with the 200hp, although a small number received the new BMW IIIa 185ps.
Lothar von Richthofen
Lothar von Richthofen (27 September 1894 – 4 July 1922) was a German First World War fighter ace credited with 40 victories. He was a younger brother of top-scoring ace Manfred von Richthofen (the Red Baron). Like his brother Manfred, Lothar began the war as a cavalry officer with the 4th Dragoon Regiment. In October 1914, while stationed at Attigny, he was awarded the Iron Cross 2nd Class for valour. The following month, his regiment was transferred to the Eastern Front.
Richthofen joined the German Army Air Service (Luftstreitkräfte) in late 1915. He served from January 1916 as an observer with Jasta 23. He won the Iron Cross 1st Class in December and then began training as a pilot. His first posting as a pilot was to his brother's Jasta 11 on 6 March 1917. His first victory claim followed on 28 March for an FE 2b of No. 25 Squadron, Royal Flying Corps.
Bloody April
Taking part in the period of German dominance called Bloody April by the British, Lothar had won 15 more victories by the beginning of May. When his brother went on leave, Lothar von Richthofen assumed command of the squadron. Considering the amount of time Lothar von Richthofen spent on the front and in hospitals, he was one of the most combat efficient and prolific flying aces of the war, perhaps even more so than his brother Manfred. Of his total of 40 confirmed victories, Lothar scored 33 in just three months: 15 in April 1917, 8 in May 1917, and 10 in August 1918.
With the return of peace, Lothar von Richthofen worked briefly on a farm before accepting an industrial position. He then became a commercial pilot, carrying passengers and mail between Berlin and Hamburg. On July 4, 1922 Lothar died in a crash of his LVG C.VI at Fuhlsbüttel (Hamburg) due to an engine failure.
Fokker D.VII Paper Model
ultima modifica:
2016-03-01T11:12:42+01:00
da