Because of the harsh winters in the Soviet Union, that country developed and produced many aerosans (a kind of motorized sled) for military purposes.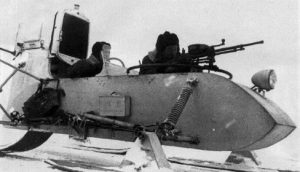 The advantage of these vehicles was that they could cross deep snow-covered ground or frozen lakes/rivers, although they weren't particularly maneuverable in tight confines. Gorki Narkorechflota developed the small RF-8/GAZ-98 aerosan; production commenced in 1942 and about 2,000 were eventually made. They consisted of a wooden body bend forward smoothly, with plywood covering the top and bottom edge of the metal profiles; the floor of the trunk was thick plywood, power points, half-axis, bearing hinges and shock absorbers are made of steel, fastened to the body bolts and washers. Two crew members sat behind him in the torso in separate rooms, like the first fighter airplanes, the commander/gunner sat in the front of the cockpit with a 7.62mm DT machine gun, while the driver/mechanic sat immediately behind him. The power unit is a water cooled automobile engine GAZ M-1 with a maximum output of 50 hp at 2800 rpm. Above the driver's head loomed grille water cooling the engine.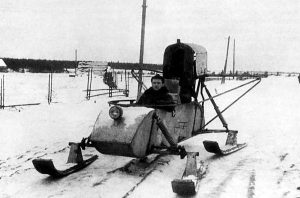 Because it was a car engine, two-blade propeller with a diameter of 235 cm was mounted directly on the crankshaft, but the engine was connected through a speed reducer. Propeller thrust gave 205-215 kg to reduce transmission of vibrations generated during engine operation, was seated on rubber dampers. The engine and its accessories were covered with a hood flip side panels. The nodal points anchoring the motor unit was attached and tubular structures, covering the area turning the propeller. This was for security reasons.
Paper model scale 1/35.
Aerosan RF8/GAZ 98 Paper Model
ultima modifica:
2015-12-01T08:45:19+01:00
da