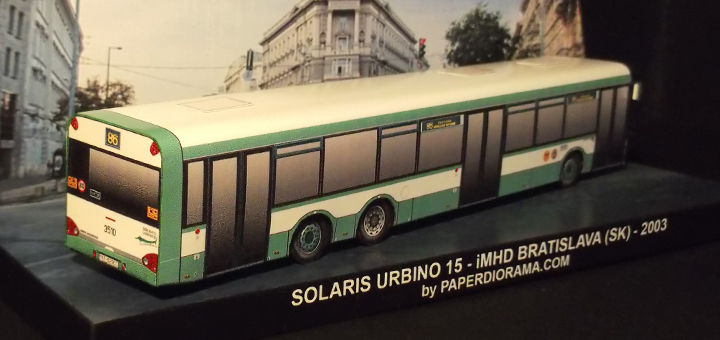 Bratislava – is the capital of Slovakia. With a population of about 425,000, it is one of the smaller capitals of Europe but still the country's largest city. The greater metropolitan area is home to more than 650,000 people.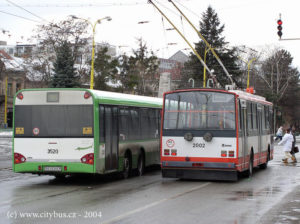 Bratislava is in southwestern Slovakia, occupying both banks of the River Danube and the left bank of the River Morava. The city's history has been strongly influenced by people of different nations and religions, namely Austrians, Bulgarians, Croats, Czechs, Germans, Hungarians, Jews, Serbs  and Slovaks. Bratislava is the political, cultural and economic centre of Slovakia. It is the seat of the Slovak president, the parliament and the Slovak Executive. It has several universities, and many museums, theatres, galleries and other cultural and educational institutions. Many of Slovakia's large businesses and financial institutions have headquarters there. Bratislava also receives around 1 million tourists every year.
Solaris Urbino15 –  is a low floor tri-axle single-decker bus from the Solaris Urbino series, for public transportation vehicles. In 1999-2001, the company Neoplan Polska manufactured the bus. It is the successor of the Neoplan N4020. Since 2001 it is produced by the Polish company Solaris Bus & Coach in Bolechowo near Poznań in Poland. The first generation of the Solaris Urbino 15 was produced from the second half of 1999. From mid-2002 the second generation of the models was produced. Since 2005, the third generation models are being built. They are produced in three versions of propulsion systems: diesel (complying with Euro 4 and Euro 5 or EEV), electric – as the Solaris Trollino 15 and CNG gas-powered (from spring 2005). It is one of the few buses with a length of 15 metres produced in Europe and the world. It is quite popular in the Czech Republic and Slovak market (this paper model). In the early years of production the buses sold very well in Latvia and in Poland.
Initially the model used the MAN D0836LOH02 engines, with maximum power of 191 kW (260 hp) and 206 kW (280 hp). Currently, the bus is equipped with a standard DAF PR228 drive unit with maximum power of 228 kW, with a Voith Diwa.5 gearbox and Webasto additional heating system. Liquid tanks are able to accommodate up to 250 liters of diesel (optional 350 liters) and 40 liters of AdBlue. On request it is possible to choose the DAF PR265 engine (265 kW), Cummins ISLe4 320 or 340 and the ZF 6HP Ecomat 4. (Source Wikipedia)
Solaris Urbino15 paper model (1/86 – H0 scale)
ultima modifica:
2019-02-13T17:40:26+01:00
da