2 CV COLLECTION VOL.1/ N.1 : 2CV Taxi de Paris – Paper model 1/35 scale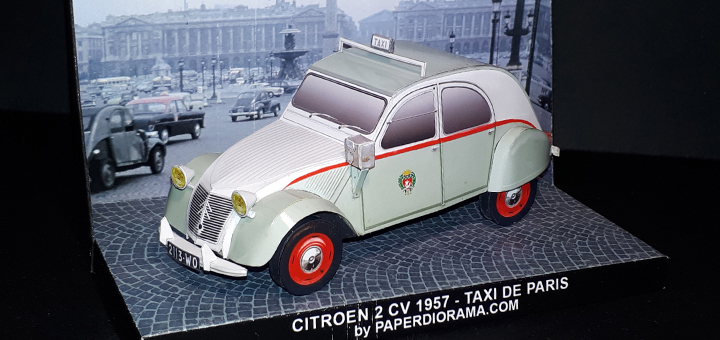 Citroen offered the Taxi 2CV in 1957. One seat for the driver, no passenger seat (folded in the trunk). The customer remains in the back seat, with the possibility of lengthening his legs.
Specific equipment: 4 special hubcaps, 1 lateral taximeter, 1 roof bar for the "Taxi" cap, 1 reinforced front bumper  and a hardened suspension system  for the occasion.
It would seem that at the time, taxi drivers were not thrilled by the idea of a 2cv taxi, accusing it of its lack of comfort and security. Of the 500 planned, only 6 were build.
---
2 CV COLLECTION VOL.1/ N.2 : 2CV Sahara ORTF – Paper model 1/35 scale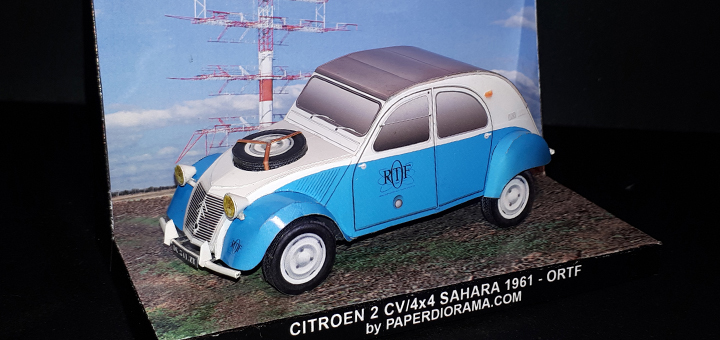 This vehicle left the factory in 1961 (green livery) and was not used by the ORTF (Office de Radiodiffusion Télévision Francaise) until later.
Among other things was used to set up relay antennas in Guyana and covered the TV reports of the Grenoble Winter Olympics in 1968.
---
2 CV COLLECTION VOL.1/ N.3 : 2CV Mére Picon – Paper model 1/35 scale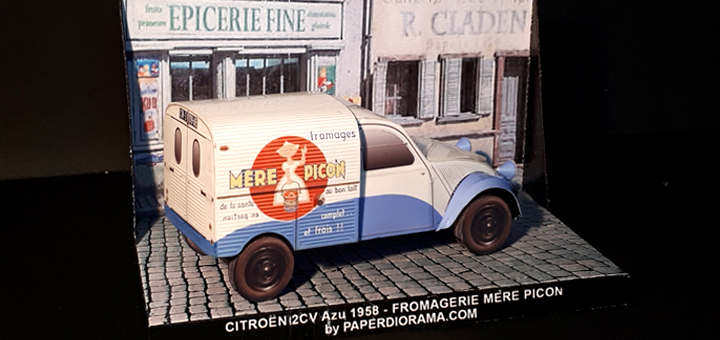 In the 1950s, the 2cv Mère Picon delivered the products from the cheese dairy and competed with the small Citroen from its famous competitor "La vache qui rit", with their brightly colored decor. One of them has survived to the present day, saved from destruction in 1994 by an amateur of private vehicles.
The paint incorporates the main elements of the packaging of Mère Picon cheese, adapted to the size of the side panels of the 2 CV.
2 CV COLLECTION – Paper model 1/35 scale
ultima modifica:
2020-05-10T16:18:09+01:00
da