N.1 : 2CV/6 Bond Car – Paper model 1/35 scale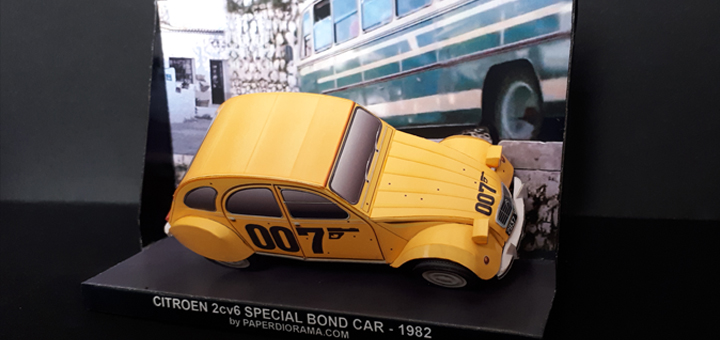 In 1982 the staging was proposed following the movie " Just for your eyes ", belonging to the James Bond saga, in which a yellow 2CV (jaune Helios AC 336) was used in reckless stunts. The version, made in 700 copies, is colored in the same shade as that of the movie and equipped with stickers reproducing the "007"   logo and the bullet holes.
You can see the 2CV used in the movie at https://www.youtube.com/watch?v=CvJp1X3qiog
You can build two model of the car: the original car used in the movie (with the Spanish license plate) or one of 700 copies equipped with stickers reproducing the "007" logo and the bullet holes.
Also you can see the tutorial on youtube:

---
N.2 : 2CV Charleston – Paper model 1/35 scale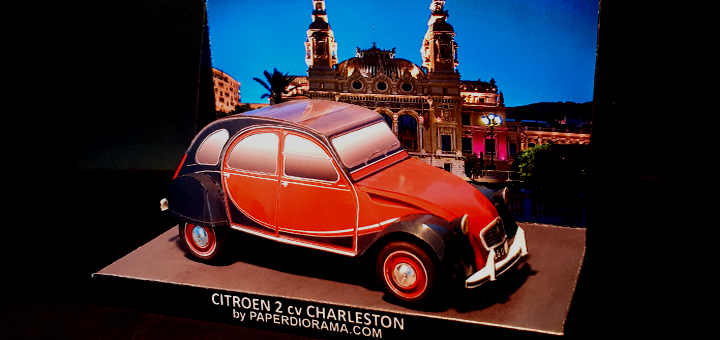 For the Paris Motor Show in October 1980, the "Charleston" set-up was prepared with a two-tone black-burgundy (black – red delage) paint and white threads. It took up the stylistic themes of the thirties, underlined by the internal fabrics " pied de poule " and by the name dedicated to the fashion dance at the time.
Given the previous success, it was thought to increase the print run to 8,000 copies which, however, proved inadequate to the demand. In 1982 Citroën decided to put the "Charleston" trim on the list, where it will remain until the end of production, adding the new black-yellow and bi-gray colors.
In 2008, a Charleston variant of the Citroën C3 Pluriel with the classic black-burgundy color was launched.
---
N.3 : 2CV Azu – Paper model 1/35 scale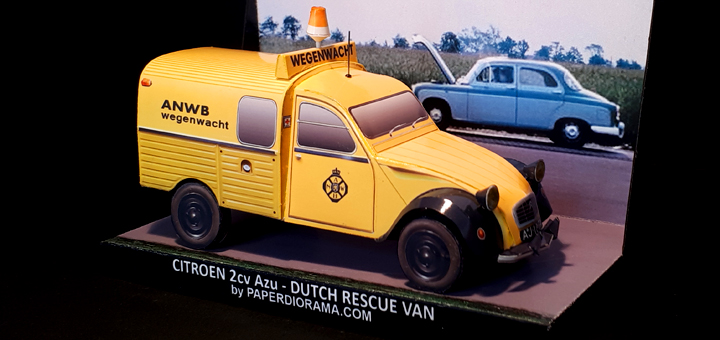 Perhaps not everyone knows the story of the invincible AK 350 fleet that was the pride of WEGENWACHT, the Dutch road safety service.
From the mid-sixties to the mid-seventies, let's say, when they were replaced by the primaserie Golf.
Wherever a motorist was hit by a breakdown or accident in his DAF or Mercedes or whatever it was (ex. a Fiat 1400 B), a yellow and black van would catch up with him and a mechanic in a gray-green uniform would come out and give first aid.
---
Our suggested tools:
2 CV COLLECTION VOL.2
ultima modifica:
2020-06-30T17:43:06+01:00
da