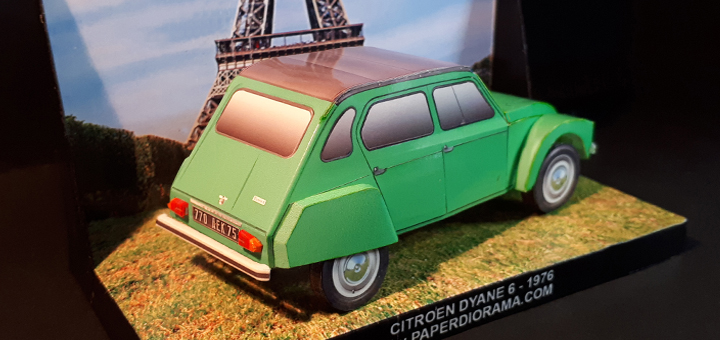 The Dyane was a development of the Citroën 2CV, and was intended as an answer to the increasingly popular Renault 4, which after its introduction in 1961 had affected 2CV sales. Like the Renault 4, the Dyane was designed from the outset as a hatchback with some other styling differences, such as conventional round headlamps set into the front fender with a squared stainless steel trim ring – as opposed to the old-fashioned separate units found on the 2CV – and stainless steel wheel embellishments as standard.
It was and is often asserted that the Dyane was intended to replace the 2CV, but it was nevertheless aimed slightly higher in the Citroën range – between the 2CV and the Ami – and attracted a different clientele seeking the versatility offered by the Dyane's hatchback.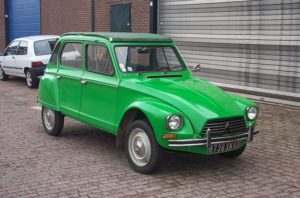 At launch the car was offered with two levels of equipment and trim: The Basic "Luxe" and the slightly better equipped "Confort". The "Confort" version was differentiated from the outside through the inclusion of hub-caps on the wheels. The spare wheel and jack were mounted in a special cradle under the bonnet/hood (rather than both simply being placed loose on the floor of the luggage area at the back). The interior of the "Confort" was slightly less basic, with plastic moulded door panels rather than flat, vinyl covered hardboard. The steering wheel was less "rustic" than that which the less expensive "Luxe" version of the Dyane shared with the Citroën 2CV.
As with the 2CV, the engine was air-cooled, with a hemispherical combustion chamber and flat-topped pistons. The Dyane was launched on its home market in August 1967 and for the first five months only the 2CV's 425 cc engine was fitted.
The 602 cc engined Dyane did not replace the original 425 cc engined car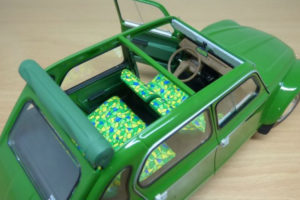 Dyane was based on the same platform chassis as the Citroën 2CV, sharing its advanced independent front to rear interconnected suspension. This comprised a central springing unit, running fore-and-aft in a tube on each side; each suspension arm on that side was linked to the spring, by a tie-rod and a 'knife-edge' pivot-pin. Early cars did not have conventional shock absorbers.
The Dyane was also available with the "trafficlutch" – a centrifugal clutch which helped avoid stalling whilst in slow moving urban traffic.
During the Dyane's first full year of production, supported by the interest and marketing activity generated by new-car launch, 98,769 Dyanes were produced which meant that it was indeed produced, even at this stage, in greater volumes than the 2CV with just 57,473 cars produced. In 1969 the Dyane was again produced at a higher rate, this time with 95,434 units as against 72,044 for the older car. However, the 2CV refused to die, and with 121,096 2CVs produced in 1970.
Note for diecast collector – there is a very nice 1/18 scale reproduction by  Norev.
(text from wiki)
Citroen Dyane 6 1976 – paper model (1/35 scale)
ultima modifica:
2019-12-28T17:27:48+01:00
da