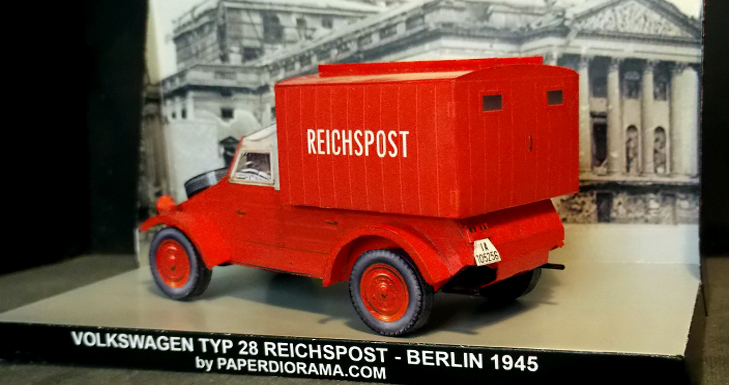 KdF/Volkswagen Factory
Wolfsburg, known as the "City of the KdF/Volkswagen-Car." Was founded in in 1938 for Kdf/Volkswagen factory workers. The idea was to produce a car (Volkswagen/People's Car) that would be affordable to a broad segment of the population. Potential buyers were even given the option of participating in a savings plan until they had reached the price of a Volkswagen. The problem, however, was that only a few hundred of VWs cars had been built; instead, the VW works had focused on producing about 50,000 jeeps Typ 82 Kübelwagen (bucket cars) and 14,000 Typ 166 (Schwimmwagen/amphibious jeep) for military use.
Volkswagen Typ 82 Kübelwagen
The production of the Typ 82 Kübelwagen started in February 1940 and no major changes took place before production ended in 1945. When the military took delivery of the first vehicles the two-wheel-drive Kübelwagen surprised because, thanks to its smooth and flat underbody, the car would propel itself much like a motorised sled, when its wheels were sinking into sand, snow or mud, allowing it to follow tracked vehicles with remarkable tenacity. As of March 1943, the car received a bigger 1,131 cc engine, developed for the Schwimmwagen, that produced more torque and power than the original 985 cc unit. When Volkswagen production ceased at the end of the war 50,435 Kübelwagen vehicles had been produced.
Volkswagen Typ 28 Kastenwagen
The Volkswagen typ 28 (civil designation) is a development based on Volkswagen Typ 82 Kübelwagen. Most photographic records show thi vehicle as a postwar development, but there is a considerable documentation to suggest that it appeared in late 1944 as ambulance with wartime designation Typ 88. The rear and sidewalls of the Kübelwagen were cut down to mount a sheet metal box with twin doors in the rear; as the engine cover was thus rendered inoperable, a hatch was placed in the floor of the box to access the engine, another small hatch was positioned behind the front passenger's head. If the vehicle was used as ambulance, a portion of the wounded party's body protruded through this hatch into the front compartment.
From Summer 1945 were built 219 Typ 28 Kastenwagen. The box van served several roles, including ambulance, delivery truck and postal delivery for the Reichspost. Scale model 1/35.
Note: several notices were taken from the spectacular "Modeler's Special Edition Guide to the Kübelwagen" from Military Miniatures in Review Magazine.
Kdf (VW) Typ 28 Reichspostwagen 1945
ultima modifica:
2015-06-01T09:22:34+01:00
da