Belize
Belize is a country on the eastern coast of Central America.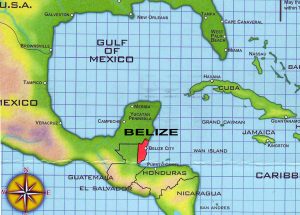 It is the only country in Central America whose official language is English, though Belizean Creole (Kriol) and Spanish are also commonly spoken. Belize is bordered on the north by Mexico, on the south and west by Guatemala, and on the east by the Caribbean Sea.
With 22,800 square kilometers (8,800 sq mi) of land and as of 2014 a population of 340,844 Belize has the lowest population density in Central America.(from Wikipedia)
Belize buses
Buses are the primary mode of transportation for Belizeans and routes run on regular schedules throughout the country, with most buses stopping to pick up and drop off passengers at most any location along the way. Every bus has a driver and a "conductor" who collects fares and sometimes assists passengers load their baggage which often includes vegetables and chickens destined for the nearest market. On work days buses start runs at 5am and go up to 8pm.
The bus system equipment in Belize is based on derelict American school buses with the most popular brand being the Blue Bird Bus. With a wild system of issuing licenses based on political patronage, there is little organization and structure and bus schedules have a way of shifting by the month.
There are two types of Bus services. Regular, meaning buses stop for passengers anywhere along the route, and Express which stop only at main towns. Buses in Belize operate Daily. The Regular buses are old Bluebird school buses, not air-conditioned and are not well equipped to handle luggage.
Blue Bird All American FE (Forward Engine)
The Blue Bird All American is an American school bus produced by the Blue Bird Corporation (originally Blue Bird Body Company). Introduced in 1948, the All American is the longest-produced transit-style (Type D) school bus by an American manufacturer. While not the first to use the transit-style design, the All American popularized it through most of the United States during the mid-20th century. It is produced in both a front engine-version and a rear-engine version.
Paper Model Scale H0
Belize City Urban Bus Papercraft
ultima modifica:
2015-05-07T12:07:45+01:00
da