Dubai Police supercars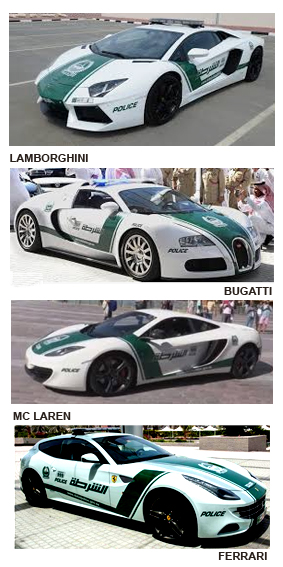 It all started back in April 2013, with a Lamborghini Aventador. This was the obvious choice if you were in the market for a maximum wow factor "mainstream" supercar back then, so it came natural.
Subsequently, the officials announced that they would also add a Ferrari and it wasn't long until we got to see that they went for something a bit more practical than the Aventador, going for the four-seat, and just as four-wheel driven, Ferrari FF. To make things even more exotic, it was announced that the FF would only be manhandled by… women.
After seeing an Aventador and an FF dress up in the Dubai Police uniform, the news that they were also getting a Mercedes-Benz SLS AMG and a Bentley Continental GT didn't shock anybody. Most of those who reported it didn't even bother to mention it was the W12 model, not the V8. This is Sparta Dubai, so it was all understood. Nevertheless, it was at this point that it became obvious an army was being gathered. Since the soldiers were already there, they needed a commander, a car that would cost more than the aforementioned four together.
The choice was rather unexpected, with the Dubai Police welcoming one of the seventy seven units of the Aston Martin One-77. This was described by its creators as a form of art, so we guess fitting it with a light bar was a metaphor.
The Chevrolet Camaro SS that followed afterwards may have seemed like a joke coming after all those big names, but it's still cooler than most police cars on Planet Earth.
Just when we were starting to think that the Camaro was hired as a personal assistant for the Aston, we were hit by the news that the Dubai Police would put its name on a Bugatti Veyron. Things were done in a bit of a rush, with Dubai Police Chief Dhahi Khalfan Tamim tweeting the adjacent image of a Veyron in Police livery, which turned out to be a rendering. Even though this was just an image manipulation, the aforementied announcement assured us that they would actually get a Bugatti.
We don't even know if the Dubai Police are satisfied with the supercar fleet yet. Who knows, maybe someone in their offices has a passion for Koenigseggs…(Source Autoevolution.com)
Mercedes Brabus B63S-700 Widestar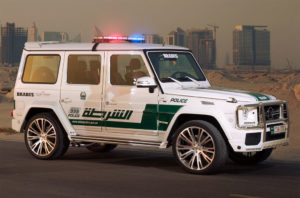 The B63S-700 Widestar (our paper model) is based on the Mercedes-Benz G63 AMG, which means that this is a high performance version of another high performance version of an already highly capable SUV.It sports a 5.5 litre V8 biturbo engine that churns out a whooping 700 PS. The beast is able to do 0 to 100 km/h in 4.9 seconds and reach a top speed of 240 km/h. 23-inch Brabus Platinum Edition monoblock forged wheels feature on this police vehicle. Brabus Dynamic Ride Control suspension with two settings (comfortable and sporty) is also available to suit the temperament of the driver.
The Widestar package includes flared fenders, LED side step illumination, roof spoiler with integrated brake light, illuminated door sill with Brabus logo, front splitter with LED daytime running lights and under body protection.  Inside, the Brabus tuned G Class AMG gets black Brabus floor mats with leather edging, custom seats in red and black shade, and aluminum pedal pads. The complete package is presented to the Dubai police in the traditional green and white livery along with the signal lights.
The B63S-700 Widestar along with the other supercars in the fleet would also be apt to man an imaginary 'Gold Class' lane in Dubai. (Source: indianautosblog.com)
Mercedes G700 Dubai police – Paper Model 1/35 scale
ultima modifica:
2019-11-16T15:37:39+01:00
da