Fiat Panda
The Fiat Panda is a front- and all-wheel-drive, five-passenger city car manufactured and marketed by Fiat, now in its third generation.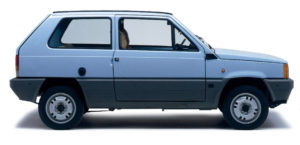 The first generation Panda (Mk1 1980-1986 & Mk2 1986-2003), introduced in 1980, was a two-box, three-door hatchback designed by Giorgetto Giugiaro and Aldo Mantovan of Italdesign and was manufactured through model year 2003 — receiving an all-wheel drive variant in 1983. SEAT of Spain marketed a variation of the first generation Panda under license to Fiat, initially as the Panda and subsequently as the Marbella (19                                                                86–1998).
The second generation (Mk3), launched in 2003 as a 5-door hatchback, was designed by Giuliano Biasio of Bertone, and won the European Car of the Year in 2004.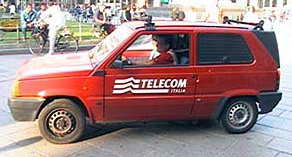 The third generation (Mk4) Panda debuted at the Frankfurt Motor Show in September 2011, was designed at Fiat Centro Stilo under the direction of Roberto Giolito and remains in production in Italy at Pomigliano d'Arco.
In 40 years Panda production has reached over 7.8 million, of those, approximately 4.5 million were the first generation.
In early 2020, its 23-year production was counted as the twenty-ninth most long-lived single generation car in history by Autocar magazine.
(All notes by Wiki)
Fiat Panda 30/Fiat Panda 750 Van – Paper model 1/35 scale
ultima modifica:
2021-06-30T19:52:12+01:00
da