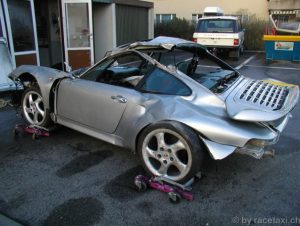 Appearances can be deceiving. The rolling embodiments of that principal we call "sleeper cars": ordinary-looking vehicles that pack a much bigger punch than you'd get by just looking at them. Take this classic VW bus, for example. Sure, it may have some racing graphics and upgraded rolling stock to tell you this isn't just any old van, but looking at it, you'd still have no idea what lies beneath the surface, the T1 Race Taxi created by a mad Swiss gentleman named Fred Bernhard.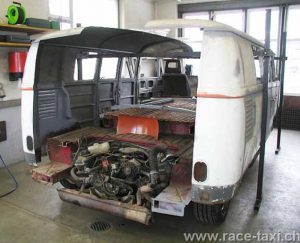 That's where you'll find oily bits sourced from Porsches. And not from a 914, either. (That was as much a Volkswagen as it was a Porsche anyway.) No, this vintage 1962 VW T1 "Bulli" van packs the air-cooled, forced-induction flat-six from a 993 Turbo (from a damaged vehicle), driving 530 horsepower and 558 pound-feet of torque through the six-speed manual transmission from a 996 GT3 to 18-inch BBS alloys.
It's the obsessive six-year project of Swiss customizer Fred Bernhard, who also used carbon fiber to cut the curb weight down to 3,300 pounds. The resulting light sleeper can top out at 143 miles per hour, in a vehicle with the aerodynamic profile of, well, a bus. It's called the T1 Race Taxi and is being showcased by Volkswagen Commercial Vehicles at the GTI-Treffen at Wörthersee this year. Short of maybe the Renault Espace F1 concept, we can hardly imagine any other van we'd rather drive around the Nordschleife. Or just to pick up the kids from school.
Race Taxi Specifications
Build Goal – Maintain the outside form as original as possible while retaining the entire technology of a Porsche 993
Turbo for the race track while seating four.
Name: FB1 Race Taxi
Type : VW T1 (Split Window) 1962
Motor: Air cooled, six cylinder, Porsche 993 Turbo
Engine Displacement: 3,600 ccm
Achievements: Original 408PS later ca. 500PS!
Transmission: Six gear gearshift type mechanical 996 GT3 with cable train.
Brakes: Ventilated interior and gelochte disks, original Porsche of 993 buses -Turbo with SEC.
Load work: Front & Rear independent suspension with height adjustable suspension struts of Bilstein. Adjustable stabilizers. Control: Power-assisted steering of Porsche (993 buses -Turbo).
Wheels: Three-part BBS race sport rims (8.5J x 18 ahead and 10J x 18 behind) tires: 235/35/18 ahead, 285/30/18.
Behind Weight: ca. 1500 kg.
Maximum Speed:230Km/h
Construction time: 6 Years
Fred Barnhard's VW/Porsche T1 Race-taxi: The Porsche Bi-turbo Bus Paper Model
ultima modifica:
2017-09-01T08:20:43+01:00
da