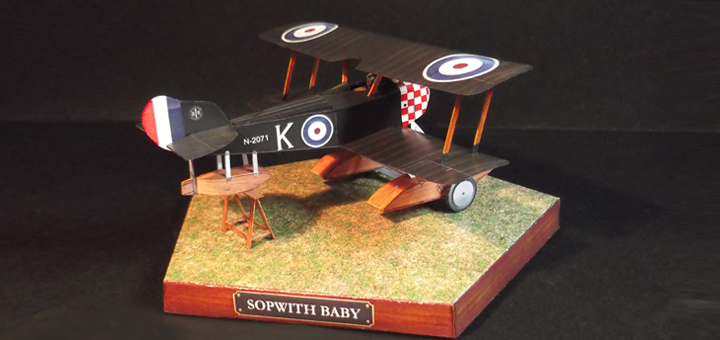 The Sopwith Baby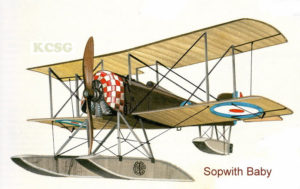 The Sopwith Baby traces its origins to the two-seat Sopwith Tabloid (or Scout) built by Sopwith in November 1913 and introduced into RFC service in the following month. It gained fame when a modified version won the Schneider trophy in 1914. However it was only in January 1915 that the RNAS placed formal contracts for the Baby. In production form, the Baby did not differ much from the Schneider trophy winner (It differed primarily in having a different engine fit and cowl, and a revised fin and rudder).
The Baby was deployed aboard seaplane carriers, cruisers, trawlers, minelayers, and various other ships. An attempt was made to deploy it even on a submarine! Babies were used to thwart enemy airship attacks as far as possible from home waters.
Besides Sopwith, the Blackburn (our paper model), Fairey, and Parnall companies also built Babies. Additionally the SA Aeronautica Ansaldo of Turin also built the Baby under license in Italy. Babies served with Canada, the US, France, Chile, Greece and Norway. Several Babies were built in Norway as replacements where they served until as late as 1930. Norwegian Babies were lent to Roald Amundsen for use in his polar expeditions. Altogether, about 700 Babies were produced (286 Babies were built for the Royal Naval Air Service, 100 by Sopwith at Kingston and 186 by Blackburn Aircraft at Leeds ).
RNAS
The Royal Naval Air Service (RNAS) was the air arm of the Royal Navy, under the direction of the Admiralty's Air Department, and existed formally from 1 July 1914  to 1 April 1918, when it was merged with the British Army's Royal Flying Corps to form a new service, the Royal Air Force, the first of its kind in the world.
During its first year it continued to be the Naval Wing of the joint Royal Flying Corps (that had been set up in 1912), but was administered by the Admiralty's new Air Department, but on 1 August 1915 the RFC became the flying branch of the British Army while the RNAS became "an integral part of the Royal Navy"- (All notes from Windsock Datafile n.60).
Note for modellers – there are many kit of this airplane: plastic kits by EDUARD (1/72 & 1/48 scale) and by AIRFRAME (1/72), a "Made-to-Order" wood model (Length: 10.76 inches Wingspan: 12 inches) by CUSTOMMADEMODEL from the Philippines, two diecast model by HONGWELL and EDISON (1/72), a metal kit by SKYTREX (1/200) and a paper model by ECARDMODEL (1/48).
Sopwith Baby N-2071 (Blackburn built) paper model (1/64 scale)
ultima modifica:
2018-03-06T18:58:15+01:00
da