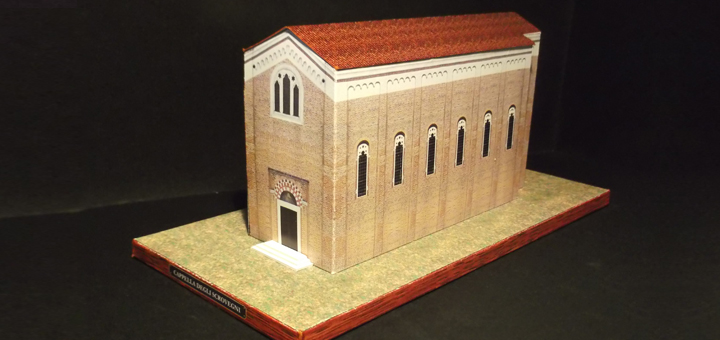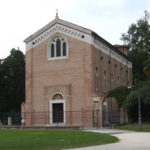 The Scrovegni Chapel (Italian: Cappella degli Scrovegni, also known as the Arena Chapel), is a church in Padua, Veneto, Italy. It contains a fresco cycle by Giotto, completed about 1305 and considered to be an important masterpiece of Western art. The nave is 20.88 metres long, 8.41 metres wide, and 12.65 metres high. The apse area is composed of a square area (4.49 meters deep and 4.31 meters wide) and a pentagonal area (2.57 meters deep).
Giotto and his team covered all the internal surfaces of chapel with frescos, including the walls and the ceiling
The largest element is extensive cycles showing the Life of Christ and the Life of the Virgin. The wall at the rear of the church, through which the chapel is entered, has a large Last Judgement. There are also panels in grisaille (monochrome) showing the Vices and Virtues.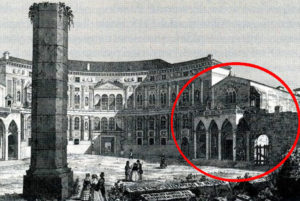 The Arena Chapel was commissioned to Giotto by the affluent Paduan banker, Enrico Scrovegni. In the early 1300s Enrico purchased from Manfredo Dalesmanini the area on which the Roman arena had stood. Here he had his luxurious palace built, as well as a chapel annexed to it. The chapel's project was twofold: to serve as the family's private oratory and as a funerary monument for himself and his wife. Enrico commissioned Giotto, the famous Florentine painter, to decorate his chapel. Giotto had previously worked for the Franciscan friars in Assisi and Rimini, and had been in Padua for some time, working for the Basilica of Saint Anthony in the Sala del Capitolo and in the Blessings's Chapel.
The chapel was originally connected with the Scrovegni palace, which was built on what remained of the foundations of the elliptical ancient Roman arena
The palace was demolished in 1827 in order to sell the precious materials it contained and to erect two condominiums in its place. The chapel was purchased by the Municipality of the City of Padua in 1881, a year after the City Council's deliberation of 10 May 1880 leading to a decision to demolish the condominiums and restore the chapel.
Cappella degli Scrovegni – Padova 1305 – Paper Model 1:160 scale
ultima modifica:
2018-04-04T18:10:54+01:00
da