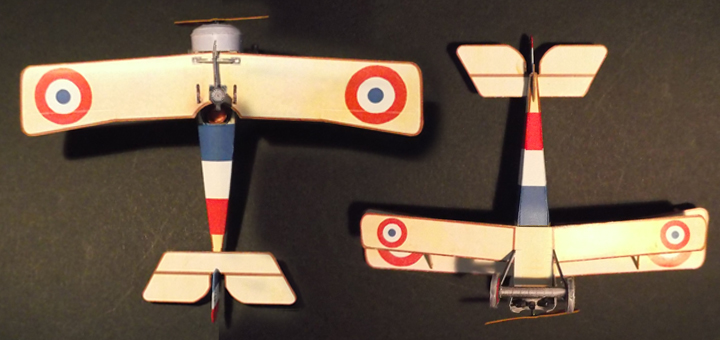 Nieuport 11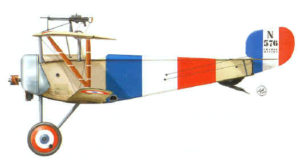 The Nieuport 11 'Bebe' was a French WW1 single seat fighter aircraft designed by Gustav Delage, it was an improved version of the two seat Nieuport 10. The Sesquiplane design, in which the lower wing is less than half the area of the upper, provided excellent maneuverability and was powered initially by a LeRhone 9C rotary engine. With its forward firing Lewis gun mounted atop, the 'Bebe' became the scourge of the Fokker Eindeckers, driving them from the skies of the Western Front in early 1916. At the battle of Verdun in February 1916, eleven Escadrilles of Nieuport 11's provided superior French aerial support against the Germans, every French ace of WW1 flew the Nieuport 11 until it was replaced by the Nieuport 17. Several thousand Nieuport 11's were built by the French with another 500 Nieuports being manufactured under license in Italy, some 200 also being manufactured in Russia where they flew as late as 1922. Our 'Bebe' is one flown by French Ace Count de Plandes Sieyes de Veynes of Escadrille 26 and comes in an attractive two tone green camouflage scheme.
Jean Navarre –  (8 August 1895 – 10 July 1919) was a French aviator during World War I.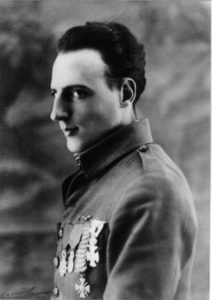 Born in Jouy-sur-Morin, Navarre earned Civil Pilot's Brevet No. 581 on 22 August 1911. This earned him immediate entry into French military aviation in August 1914, when the World War began.
Navarre was flying a Nieuport 11 that he had painted a patriotic and striking red, white, and blue. When he received a new Nieuport 11 fighter aircraft, he deliberately painted it all red to challenge and intimidate the enemy in the skies over Verdun, well before his German counterpart would gain notoriety as the Red Baron. Navarre began his victory string with his new unit by scoring one of the first "doubles" of the war, downing a Fokker E.III and a German two-seater on 26 February 1916, and becoming one of the first flying aces in history. He was dubbed the first official French flying ace, though Adolphe Pégoud preceded him. Navarre tallied half a dozen more wins during the next three months and on May 19, 1916 he shot down a German Aviatik C over Chattancourt, France, becoming the first Allied ace credited with 10 victories.
After the end of hostilities, a victory parade was planned on the Champs Élysées on 14 July 1919. However, the high command ordered airmen to participate on foot rather than flying their aircraft. The headstrong 'heroes of the air' took this as an insult. At a meeting in the 'Fouquet' bar on the Champs Élysées, they decided to respond to this affront by selecting one of their number to fly through the Arc de Triomphe. Navarre, as the first among the aces, was considered the ideal choice despite his injuries. Tragically, however, while practicing for this stunt, Navarre crashed his aircraft and died at Villacoublay aerodrome on 10 July. He was only 23 years old. Fellow pilot Charles Godefroy would eventually perform the historic flight through the Arc de Triomphe a few weeks later. (All notes from Wikipedia)
Nieuport 11 paper model (1/64 scale)
ultima modifica:
2018-05-04T18:14:31+01:00
da