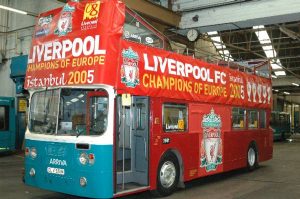 THE BUS
is a 1974 Leyland Atlantean/Alexander coachwork (Reg. OLV 551M) converted to open top following an arson attack and used from 2000 to 2005 by Arriva Merseyside for Southport sightseeing tour service. Her main claim to fame is as Liverpool FC's 2005 UEFA Champions League home-coming bus when the Liverpool FC team were welcomed by 750,000 cheering fans, who created a sea of bright red along the streets of Liverpool.
THE EVENT
The 2005 UEFA Champions League Final was the final match of the 2004–05 UEFA Champions League and was one of the greatest games of football ever played. The showpiece event was contested between Liverpool FC and Milan FC at the Atatürk Stadium in Istanbul.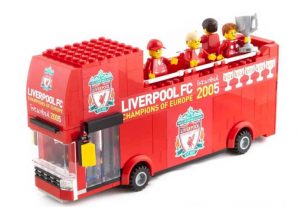 Milan were regarded as favourites before the match and took the lead within the first minute and added two more goals before half-time to make it 3–0. In the second half Liverpool launched a comeback and scored three goals in a dramatic six-minute spell to level the scores at 3–3. The scores remained the same during extra time, and a penalty shoot-out was required to decide the champions. The score was 3–2 to Liverpool when the Milan's penalty was saved by Liverpool goalkeeper. Thus Liverpool won their fifth European Cup, were awarded the trophy permanently.
NOTE
Lego has created a limited edition toy, available to buy via their website (if you have £90 can buy this limited edition kit at http://printabrick.co.uk/) which recreates the open top parade bus.
Liverpool Homecoming Bus FC Champions League 2005
ultima modifica:
2016-10-03T08:34:46+01:00
da