Maschinenfabrik Esslingen: The Maschinenfabrik Esslingen AG (ME) was a company founded in 1846, who played an important past in the construction of locomotives, trams, railway and electric truck just as the EL 3001 Elektro truck (this paper model), which is now on display at the European Bread Museum in Ebergötzen and still roadworthy (Nearly 300,000 km are on the clock); another is owned by the German Technology Museum in Berlin, where he is restored by students of the Academy of Sciences in Berlin.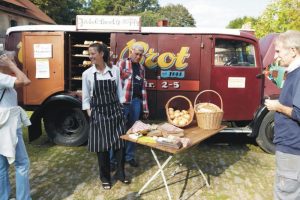 Wittler-Brot: Wittler was a Berlin bakery. In the aftermath of the First World War it was the largest bread producers in Europe with 2,000 employees. After the First World War it was at Wittler temporarily the largest bread producers in Europe with up to 2000 employees. This gave the bread to 30 of its own shops in Berlin city area.
In order to supply the outlets entertained Wittler own fleet. This originally consisted of teams of horses, for the company had 300 horses. In the 1920s Wittler turned to electric trucks that stood out by their typical red-brown design in the urban area.
Special thanks to our fan "Arne" who shared his precious pictures with us to make this paper model.
ELtruck EL 3001 Paper Model
ultima modifica:
2016-09-05T08:44:51+01:00
da