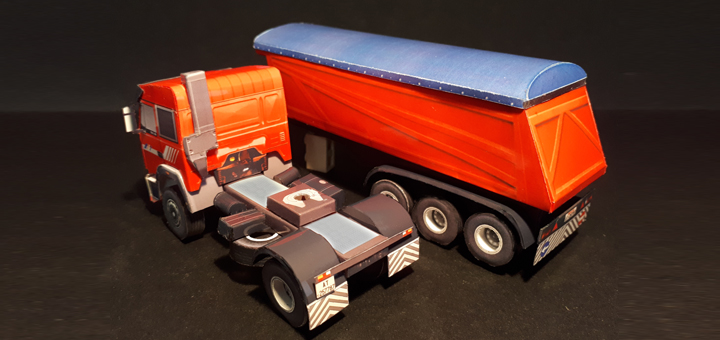 Iveco TurboStar – Turbostar is a truck and road tractor produced by Iveco since 1984 , intended for the heavy transport of goods.
Presented as heir to the previous Iveco Turbo series , it was initially sold in the 190-33 and 190-42 versions which differed in the engine: 6 cylinders in line of 13.798 cm³ supercharged with intercooler with a power of 330 hp for the first, 8 cylinders with V turbo (without intercooler) with 17.174 cm³ and 420 hp for the second; both versions can be optionally equipped with mechanical gearboxes or ZF ECOSPLIT with 16 synchronized gears or Fuller with 13 gears with quick engagement.
It got good reviews in the tests carried out by industry magazines such as TuttoTrasporti, which tested it in February 1985 , noting the positive characteristics of the engine and the new cabin setting with greater comfort than the previous series.In 1987 the minor series was replaced by the 190-36 with the engine boosted to 360 hp and further in 1990 to 377 hp (keeping the name "-36 and only later it was called 190-38), followed in 1989 by the 190-48 turbo version 480 hp intercooler with ZF gearbox . Of the latter there was a version called "special" equipped with an external set-up that included fairings, side skirts and spoilers. The whole series was then replaced by the Iveco Eurostar presented in 1993.
Having been produced in more than 50,000 units, it was one of the best-selling Iveco trucks in Italy
FIAT IVECO TURBOSTAR 190/48 – Paper Model (1/66 scale)
ultima modifica:
2022-04-23T15:31:06+01:00
da