Snow Cruiser Idea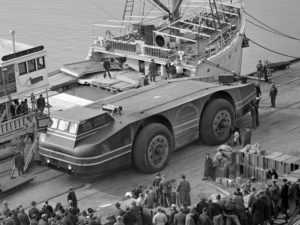 The Antarctic Snow Cruiser was developed under the direction of famed explorer Admiral Richard Byrd. His second-in-command, Dr. Thomas Poulter, returned from a previous (1934) Antarctic expedition with the idea for a massive, purpose-built transport vehicle for Antarctic exploration. It was envisioned as an unstoppable fortress for long-distance travel on the continent's endless swaths of snow and ice, especially in punishing weather. Through Poulter's role as scientific director of Chicago's Research Foundation of the Armour Institute of Technology, he convinced colleagues there to design the Snow Cruiser, an endeavor that spanned roughly two years between 1937–39. As Admiral Byrd was planning his third Antarctic expedition in the spring of 1939, Poulter and Foundation director Harold Vagtborg successfully pitched the Snow Cruiser's inclusion in these plans to officials in Washington D.C. overseeing the United States Antarctic Service. The Foundation was responsible for physically constructing the vehicle and coming up with the estimated $150,000 in necessary funding.      
Snow Cruiser in Action
The Antarctic Snow Cruiser was a vehicle designed from 1937 to 1939 under the direction of Thomas Poulter, intended to facilitate transport in Antarctica. The Research Foundation would finance the cost and oversee the construction, and lend the vehicle to the United States Antarctic Service. Work began on August 8, 1939 and lasted for 11 weeks. On October 24, 1939, the vehicle was fired up for the first time at the Pullman Company just south of Chicago and began the 1,640 km journey to the Boston Army Wharf. After it arrived in Boston, it departed for Antarctica on November 15, 1939 aboard the ship the North Star. The Snow Cruiser
arrived at Little America in the Bay of Whales, Antarctica with United States Antarctic Service Expedition in early January 1940 and experienced many problems. The large, smooth, tread-less tires spun freely and provided very little forward movement, sinking as much a 3 feet into the snow. The crew attached the two spare tires to the front wheels of the vehicle and installed chains on the rear wheels, but were unable to overcome the lack of traction. The crew later found that the tires produced more traction when driven backwards.
The End
While having several innovative features, it generally failed to operate as hoped under the difficult conditions, and was eventually abandoned in Antarctica. Rediscovered under a deep layer of snow in 1958, it later disappeared again due to shifting ice conditions.
Byrd's Snow Cruiser – Paper Model 1/100 Scale
ultima modifica:
2021-11-01T10:58:27+01:00
da