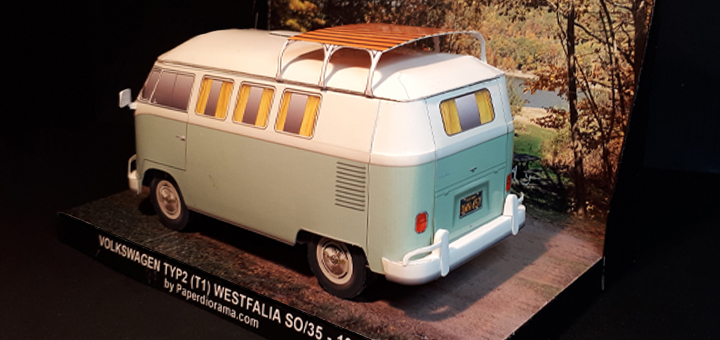 Volkswagen Microbus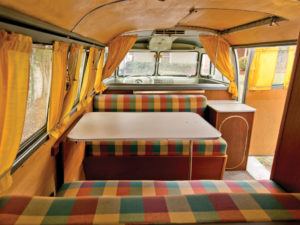 In 1961, the Volkswagen Microbus was introduced, and was one of the earliest vehicles to be offered as a camper from the factory. The conversion from microbus to camper was performed by Westfalia-Werke, which became known as simply the 'Westfalia.' They came equipped with two upholstered bench seats that converted into a bed, a front seat that could sleep children, storage space, a wardrobe, and a tent to increase the living area. The Westfalia, known as the SO, for sonderausfuhrungen (special equipment), made the Microbus a suitable vehicle for camping and long trips. Two models were available through 1965, the SO-34 and the SO-35. The SO-34 has a laminated white interior, while the SO-35 featured finished wood.
Westfalia camper conversion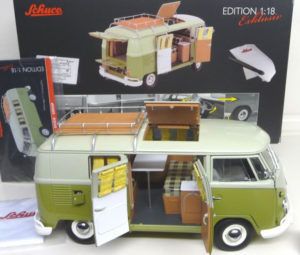 This particular model is a SO-35 Westfalia Camper. It has birch plywood interior panels and cabinetry, a laminated folding table, and bright plaid canvas seats with matching yellow curtains. This Camper also included a child's hammock and a factory accessory awning. Optional equipment includes a hatch-top roof, opening front 'safari' windows, and a luggage rack for extra baggage.
VW Typ2/T1 Westfalia camper scale models
1/18 – Very well done Volkswagen T1 Westfalia SO-34 camper diecast model by Schuco 1/18 Limited Edition of only 1000 Pieces; 1/43 – Kombi Westfalia SO-42 by IXO/Achette/Altaya.
Volkswagen Typ 2 (T1) 1962 Westfalia Camper conv. paper model (1/35 scale)
ultima modifica:
2019-05-04T11:05:43+01:00
da