LVT (A) 1 – The Landing Vehicle Tracked (LVT) is an amphibious warfare vehicle and amphibious landing craft, introduced by the United States Navy. The Marine Corps and Army used several LVT models during World War II strictly in the Pacific. Originally intended solely as cargo carriers for ship to shore operations, they evolved into assault troop and fire support vehicles.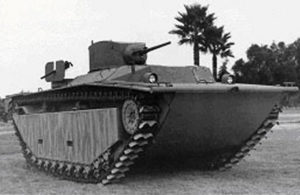 The LVT had its origin in a tracked civilian design, known as the "Alligator", devised by American engineer Donald Roebling. He specifically designed it as a rescue vehicle, to be utilized in the vast Florida swampy areas. Its robust tracked nature and boat-like qualities made it ideal for this purpose. The concept dated back as far as 1933. Seeing the value of such a machine, the United States Marine Corps talked to Roebling about modifying his design for military use in 1940. As the Marine Corps, who were trained to fight on land, had to be deployed from their ships, and the biggest threat to America being the Empire of Japan in the Pacific, were island-hopping was soon to be the norm, it seemed like a good fit. By May 1940, the first prototype was ready, with a Mercury 94K engine. As more funds became available, a second one, propelled by a Lincoln-Zephyr powerplant, saw its first trials later in the summer of that year. It was ultimately accepted for service and production was set up. D. Roebling named the prototype "Alligator".
The Battle of Saipan – The Battle of Saipan was a battle of the Pacific campaign of World War II, fought on the island of Saipan in the Mariana Islands from 15 June to 9 July 1944. The Allied invasion fleet embarking the expeditionary forces left Pearl Harbor on 5 June 1944, the day before Operation Overlord in Europe was launched. The U.S. 2nd Marine Division, 4th Marine Division, and the Army's 27th Infantry Division, commanded by Lieutenant General Holland Smith, defeated the 43rd Infantry Division of the Imperial Japanese Army, commanded by Lieutenant General Yoshitsugu Saito. The loss of Saipan, with the death of at least 29,000 troops and heavy civilian casualties, precipitated the resignation of Japanese Prime Minister Hideki Tojo and left the Japanese mainland within the range of Allied B-29 bombers.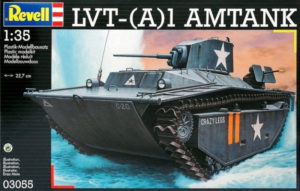 LVT plastic kits – There are many LVT kits: 1/76 Airfix, 1/72 Dragon, 1/40 Upc (an old plastic kit), 1/35 Dragon, Italeri, Modelcraft, Nitto and AFV Club.
LVT die cast model – There are olso LTV diecast models 1/72 scale by Hobby Master, Dragon and Altaya.
LVT(A)-1 708th Amphibian Tank Battalion
ultima modifica:
2018-11-01T10:36:05+01:00
da