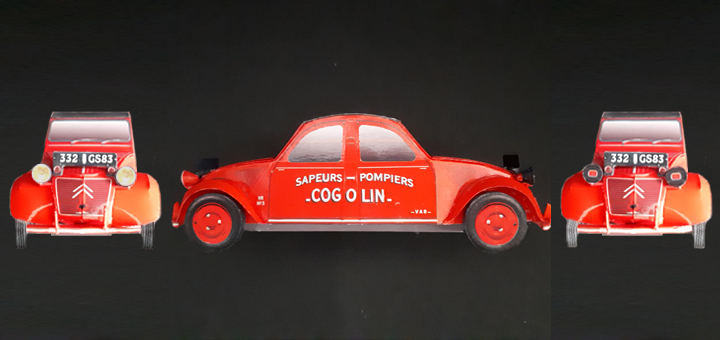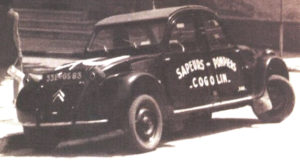 The genesis – In the 1950s the departmental inspector of the Var, Colonel Hourcastagné, conducts a night reconnaissance on a mountain road with his 15 HP Front Wheel Drive. Blocked and unable to turn around, he had to turn back in the light of an electric torch, guided by his driver! Following this unpleasant, and dangerous, situation a reflection is conducted between the fire department and foresters on the design of a reconnaissance vehicle suitable for roads and steep slopes of the department.
The realization – The General Council allocates a budget and two Citroën 2CVs are acquired and transferred to Neuilly-sur-Seine. Both frames are sawn, the front parts clear and assembled back to back. The result is a "two-headed" chassis consisting of two engines, two transmissions, two directions, two steering wheels …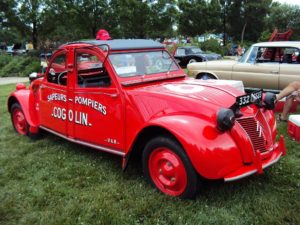 If the two parts are welded they nevertheless retain their independence. When the vehicle is traveling in one direction, the opposite direction is neutralized by a locking bar. In evolution 4×4 a motor is driven forward while the gearbox of the other is engaged in reverse. The ground clearance is not changed and it will pose a lot of difficulties at some crossings because of the long wheelbase of the machine (almost 3 meters!). The suspension is however reinforced.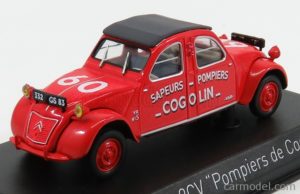 In service – This double 2CV was assigned in 1956 to the emergency center of Cogolin after several months of use to the direction of the fire services in Draguignan. It will be alongside Jeeps and GMC military surpluses frequently used at that time by firefighters facing forest fires. It is engaged in reconnaissance but will be mainly used as a mobile command post and radio vehicle. As a result, it will be engaged in a large part of the department and its reputation will grow, amplified by the many French and foreign tourists who will cross it on their way.
She was removed from service in 1971, replaced by a Jeep and entrusted to the administration of Domains.
Much later, aware of the historical interest of this unique machine in the annals of the firefighters of the Var and France, the firefighters of the Var command the realization of a replica at the Lycée des Métiers Georges Cisson in Toulon.(Text by Olivier Gabriel)
Note for diecast collector – there is a nice 1/43 scale double 2cv reproduction by  Norev.
Citroen 2 cv Bicephale – Sapeurs Pompiers du Var paper model (1/35 scale)
ultima modifica:
2019-07-05T14:17:45+01:00
da