During a recent auction, a 1955 Volkswagen Microbus sold for $235,000, making it the most expensive model to be sold in modern times. By comparison, another model was snapped up for its $218,000 ceiling price at the 2011 Barrett Jackson California auction.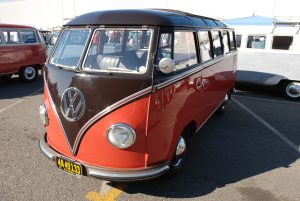 The example featured here is a 1955 23-window Microbus in the Barndoor Samba trim level, which was considered the most luxurious trim level that boasted several unique features to help it stand out from its more minimally-trimmed siblings. A key Samba identification cue is the number of windows that it had over other models. The auction house Auctionata also revealed that this is one of only 11 Samba spec models built for 1955 a factor that obviously helped its higher-than-usual hammer price.
Barn Doors
Any Bus produced through February, 1955. The term Barndoor is credited to Jeff Walters and is in reference to the large decklid (term to describe the engine cover on various VW models) found on those vehicles. VW Barndoor Type 2's (T1) can also be recognized by the lack of an overhead fresh air vent over the windshield, 16 inch rims, the lack of full dash on non-deluxe models, non-opening rear window hatch (a few exceptions); not to mention miscellaneous switches, latches, seats and body panels that are unique to the Barndoor bus and no other.  The term is often mistakenly used to refer to the 2 cargo doors on the side of a Bus.
VW T1 23 Window Samba, Type 241 9-Seater, Identification Number: 20116070, Spec.
    Manufactured in Wolfsburg, Germany in 1955
    First registration: 07. March 1955, St. Christoph in Arlberg
    Engine Number: 200980375
    1.2L Engine with 30 HP
    Colour: Sealingwax red / Chestnut brown, Interior: black Seats
    One of 11 existing Barndoor Sambas from 1955 !
VW Microbus 23 windows "Barndoor" Paper Model
ultima modifica:
2016-05-02T09:25:13+01:00
da