RNLI
The Royal National Lifeboat Institution (RNLI) is the largest charity that saves lives at sea around the coasts of the United Kingdom, the Republic of Ireland, the Channel Islands, and the Isle of Man, as well as on some inland waterways. It is one of several lifeboat services operating in the same area.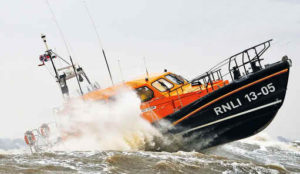 Founded in 1824 as the National Institution for the Preservation of Life from Shipwreck, soon afterwards becoming the Royal National Institution for the Preservation of Life from Shipwreck, under the patronage of King George IV. On 5 October 1854, the institution's name was changed to its current name (RNLI), and in 1860 was granted a royal charter. The RNLI is based in Poole, Dorset. It has 238 lifeboat stations and operates 444 lifeboats. RNLI lifeguards operate on more than 200 beaches: the lifeguards are paid by local authorities, but the RNLI provides equipment and training. The institution also operates flood rescue teams nationally and internationally, the latter prepared to travel to emergencies overseas at short notice.
SHANNON CLASS LIFEBOAT
The Shannon-class lifeboaT is the latest class of lifeboat currently being deployed to the RNLI fleet to serve the shores of the British Isles. The Shannon class is due to replace the Mersey class carriage-launched lifeboat, the remaining Tyne-class lifeboats, and to also replace the Trent-class lifeboats in due course.
The first Shannon-class to be delivered for service was demonstrated at Dungeness, Kent on 21 February 2014. The Shannon class uses similar Systems and Information Management System (SIMS) technology to that of the Tamar class lifeboat so that crew members can operate all of the boat's systems collaboratively without leaving their seats. Crew seats are also similar to the Tamar, sprung to reduce the shocks in hea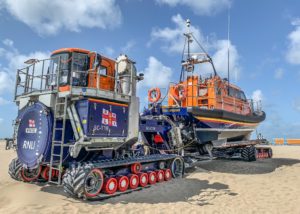 Most Shannons are launched by a newly designed Shannon Launch and Recovery System (SLARS) by which a tractor propels the lifeboat on its cradle into the water. The cradle is then tilted and acts as a mobile slipway as the boat is launched by release of a single bow strop from the wheelhouse, rather than the old carriage launched method of four chains being released by crew members on deck. Recovery is bow first onto the cradle, which then rotates through 180 degrees, enabling the boat to be launched again within ten minutes. Some Shannons are due to be kept afloat at moorings or a pontoon berth and the boats are also capable of being slipway launched, although only Swanage currently has a slipway launched Shannon. The boat at Workington uses the same davit crane system as the previous Tyne class boat.
Shannon Class Exmouth Lifeboat 13-03 – Paper model (1/64 scale)
ultima modifica:
2022-08-18T14:33:01+01:00
da