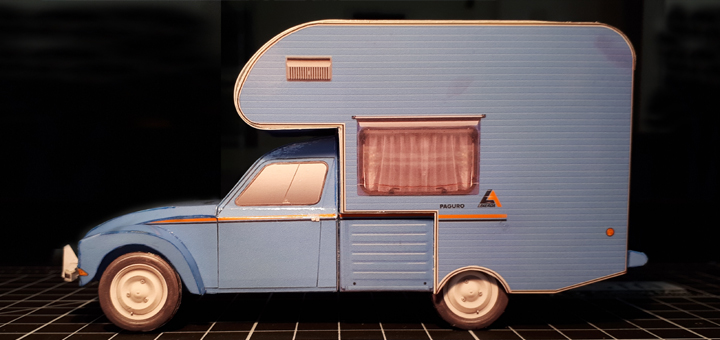 Citroen Acadiane
The Citroën Acadiane is a small commercial vehicle derived from the Dyane, produced from 1977 to 1987. Production totalled 253,393.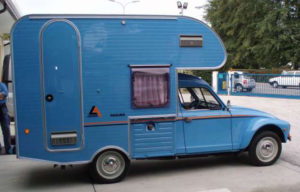 The Acadiane differed from the Dyane on which it was based in having heavier-duty suspension, a slightly altered chassis and a rear-brake limiter whose action was dependent on the load.
The Acadiane was also fitted with wind-down windows in the driver's and passenger's doors. The Dyane car had horizontally-sliding windows.
The payload was approximately 500 kg (1,100 lb), but handling was impaired when fully loaded.
The Acadiane was available in commercial (two-seater) form or as a "Mixte", with sliding rear windows and a removable rear bench seat. Citroën and many other manufacturers continue to this day (Berlingo et al.) with the option of rear seats in a vehicle clearly designed as a commercial. The Mixte version also had a passenger sun visor, missing in the more basic commercial version. In line with many Citroën light commercials, the roof of the rear bodywork was corrugated to add extra rigidity at little cost.
Laverda
Was an Italian manufacturer of high performance motorcycles. The motorcycles in their day gained a reputation for being robust and innovative.
The Laverda brand was absorbed by Piaggio when, in 2004, Piaggio absorbed Aprilia. Piaggio has elected to quietly close all activities related to the Laverda brand and has publicly stated that they would be willing to sell the rights to the brand if an investor should appear. As of 2015, Laverda.com no longer redirects to Aprilia's website.
In 1973 it was born in the camping sector, presenting a range of caravans that caused a sensation at the Calenzano fair. It was the "Blue Series" line because of the boxes painted blue instead of the traditional white. But this was not the only novelty: the bodies were square instead of round, to the advantage of habitability and production costs; the walls are the result of an innovative coating technology with press-folded polyurethane that improves their insulation and resistance, making them lighter; the furnishings and finishes have refined the maximum rationality of the interior spaces with a modern taste unusual in the sector.
Camper Acadiane "Paguro" Blue Myosotis color, produced and marketed in Italy on the basis of the Citroen Acadiane chassis; for mechanical or bodywork problems, the Acadiane Paguro is certainly one of the rarest Laverda motorhomes left, although I believe that the number of units produced should not be so high.
(Al text from wiki)
Citroen AcaDiane 1978 "Paguro"by Laverda – paper model (1/35 scale)
ultima modifica:
2020-09-18T08:39:55+01:00
da